The Centre de musique baroque de Versailles is taking part in the #Eurobalcon initiative, which was launched by the Lyon and Paris National Conservatories of Music and Dance. Musicians all over Europe are invited to perform in a balcony concert together every friday at 7PM; we will be playing the prelude to Charpentier's Te Deum!
The Centre de musique baroque de Versailles is donating the PDFs of the scores.
Download the scores
ScoreS realized by the CMBV
The Centre de musique baroque de Versailles is making available, free of charge, the scores of the prelude to Marc-Antoine Charpentier's Te Deum:
Scores sent by Internet users
Marc-Antoine Charpentier (1643-1704)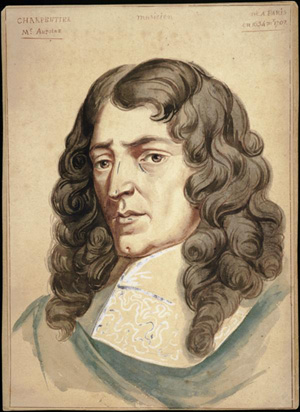 Marc-Antoine Charpentier spent some time in Rome in his youth, and this ultramontane sojourn had a lasting influence on him. He never held an official position in the French court but he did obtain prestigious position in Paris, with Mademoiselle de Guise, with the theatre, working alongside Molière, and as maître de musique at both the Louis-le-Grand school and the Saint-Louis des Jésuites church. His only musical tragedy, Medea, was staged 4 December 1693. 28 June 1698, he was named maître des enfants at the Sainte-Chapelle, a position he held until his death.
Family life
Marc-Antoine Charpentier was born in the "Paris diocese" (presently the Ile-de-France region). His family had lived in Meaux for several generations. His great-grandfather Denis was a "master tanner," his grandfather Louis was "royal sergeant-at-arms," and his uncle Pierre was a priest, "Grand Chaplain of the Cathedral." But Paris was the setting for his father's career as "master writer." Therefore, Marc-Antoine Charpentier did not seem destined for a musical career.
ROME
When Marc-Antoine Charpentier was 20 years old, he went to Rome, where he spent three years and frequented Giacomo Carissimi (1605-1674), the biggest Roman composer at the time, who was particularly famous for his oratorios. Charpentier's music would henceforth be influenced by the Italian style, which his contemporaries would reject, but which makes his music incomparably expressive for us today.
PARIS
Marc-Antoine Charpentier returned to Paris from Italy at the end of the 1660s. Under the patronage of Marie de Lorraine, called "Mademoiselle de Guise," he moved into the mansion where he would live for the next twenty years. In 1672, Molière chose him to replace Lully as the composer of his comedy-ballets (The Imaginary Invalid).
In April 1683, he unsuccessfully applied for a position as the Royal Chapel's assistant maître de musique. In 1687, Charpentier became maître de musique at the Louis-le-Grand school, then at the Saint-Louis des Jésuites church. 4 December 1693, he staged Medea, which was Charpentier's only musical tragedy. 28 June 1698, he was named maître des enfants at Sainte-Chappelle, a position he held until his death.
THE MÉLANGES
Charpentier left us a body of work consisting of more than 550 pieces, the majority of which are included in Mélanges, one of the largest collections of autograph works in the Bibliothèque Nationale de Paris.
Charpentier's work enumerated:
12 masses
83 psalms
4 Te Deum
50 motets for the Blessed Sacrament
31 Tenebrae Lessons
10 Magnificat
22 antiphons
25 Domine salvum
48 motets for elevation
10 Litanies for the Virgin Mary
35 oratorios
2 operas
15 divertissements
20 comedy-ballets and set-based plays
35 arias
41 instrumental pieces
Te Deum (1692)
The work that has brought Charpentier fame the last seventy years is his Te Deum in D, whose prelude has been used for over fifty years as the Eurovision theme song, which is known all over the world. This brilliant instrumental prelude includes trumpets and timpani and resonates as a symbol of the Sun King's France. Its first notes recall the rhythmic and melodic momentum of the Marseillaise, which also explains its popularity.
Since 1953, his Te Deum has been recorded more than twenty times. It is fascinating to follow the interpretation differences from one version to another, particularly as concerns which instruments are used (period or modern ones) and the tempos, the variety of which is quite stunning. We should also note that there are many different arrangements, including for accordion, bombard, and synthesizer.